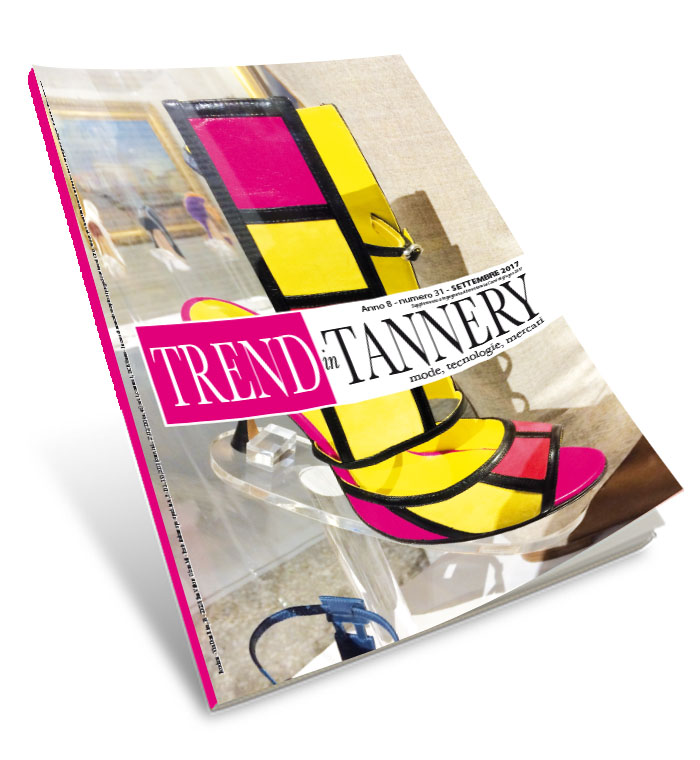 TREND in TANNERY
Quadrimestrale redatto in italiano e inglese in forma modulare. Obiettivo del periodico è proporre una panoramica su tutto ciò che concorre alla lavorazione della pelle, segnalando con discreto anticipo le tendenze moda e colore nonché gli aggiornamenti tecnologici e chimici utili per la messa a punto di pelli per calzature, pelletteria, interior design e automotive, le evoluzioni del mercato, le proposte dalle fiere internazionali. Uno strumento utile per l'utenza pubblicitaria – aziende meccaniche, chimiche, di accessori, commercianti di grezzo - che vuole inserirsi in un contesto dinamico e d'interesse per la clientela di riferimento, le concerie, sia italiana che estera.
Moda
Tecnologia
Mercati
Aziende
Personaggi
Concerie di tutto il mondo (nelle persone degli imprenditori ma anche dei responsabili tecnici e dello stile)
Sedi istituzionali di tutta la filiera
Istituti tecnici ad indirizzo conciario
Studi di ricerca stilistica
English version
A quarterly magazine edited in Italian and English in modular format. The aim of the periodical is to offer an overview of every aspect of leather processing, and to provide information in advance of the fashion and colour trends as well as providing an update on useful technologies and chemical innovation for the fine tuning of leather for footwear, leatherwear, interior design, automotive, the market evolution, and suggestions from other international fairs. A useful instrument for advertisers – mechanical, chemical, accessory manufacturers, and raw material sourcing firms – to get in touch with the reference customers, both Italian and foreign tanneries within a dynamic and interesting context.
Fashion
Technology
Markets
Companies
Characters
The most important tanneries in the world by way of the entrepreneurs but also thanks to people who are in charge of technical aspects and style
Institutions of the general supply chain
Technical colleges that run tannery courses
Style research centres